Have you always dreamed of working from home? Wearing sweatpants (or no pants) all day? Snuggling with your pet (or double dipping as a part-time sitter on Rover) while getting paid? Transcription could be your answer.
Don't expect to start off making hundreds of dollars a day, but many transcription-based companies hire beginners, and that's where you can get your start!
It's the perfect side hustle that you can do without leaving your couch, and isn't that the dream?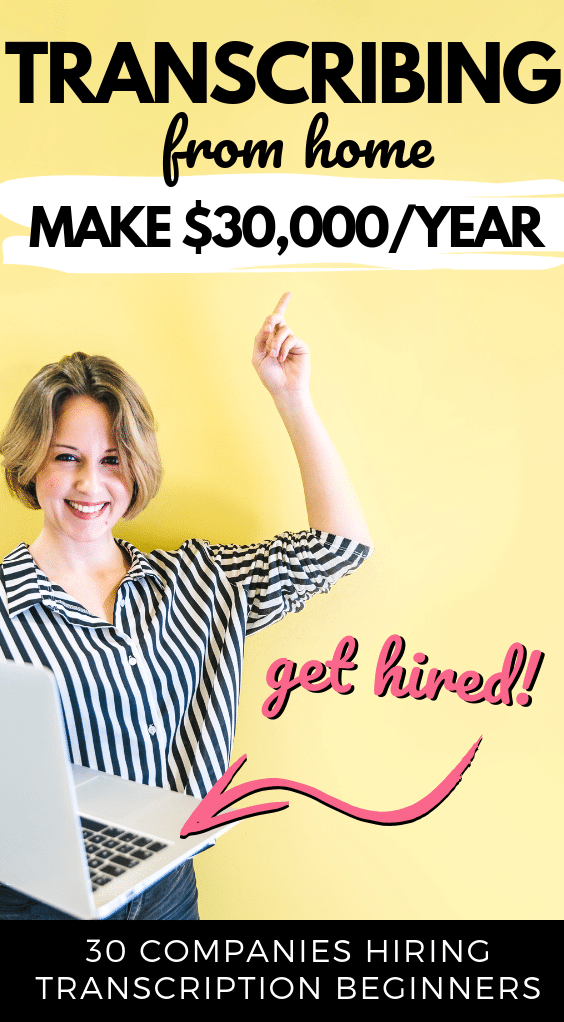 ⭐ Related Reads:
What is Transcription?
In the simplest of terms, transcription is listening to an audio file and typing what you hear. It's creating subtitles, documents, or reports. And it requires patience, typing skills, and a good understanding of grammar and spelling. General transcription could require you to transcribe business meetings, interviews, lectures, or a variety of other conversations.
Medical or legal transcription usually pays more, but the transcriber will require background knowledge in those fields.
If you still feel lost, try this free intro mini transcription course. It will give you a good start into this as a work at home profession at no cost to you. Transcription (medical, legal, general etc.) are really great gigs for stay at home moms and acts as a pretty stable supplemental income. The full general transcription course ($597) can prepare you for the rest.
⭐ Recommendations for You
Should You Apply?
Even though this work is simple, it requires a lot of patience and a good ear.
One minute of audio can take up to 10 minutes to transcribe, depending on your experience. You will have to listen to the same parts multiple times, so if repetition drives you crazy, this might not be for you. It can also be tedious but typists get better with practice. After some time at the job, it becomes like second nature and your work time will speed up a lot.
The best part about general transcription jobs, however, is the flexibility.
You can work at any time, anywhere. This also means you can take time off when you need it. Working from home means you can double dip into other side hustles too and make a solid full-time income. Being a transcriptionist comes with a lot of flexibility which is great, especially if your first job is being the mommy brigade.
⭐ Recommended Reads:
How Much Does Transcription Pay?
This varies company to company, but general transcription averages anywhere from $10-$20 per audio hour.
More experienced transcribers, or ones with a medical/legal background, have reported making upwards of $50 per hour.
Just remember that 1 audio hour may take a pure beginner up to 5 hours to transcribe. The more practice you have in doing this type of work, the more money you will make.
An experienced transcriptionist jobs can pay out to $3,000+ a month working from home. The job outlook holds steady (-3%) according to U.S. Bureau of Labor Statistics.
Get an Extra $300+ Per Month Sharing Your Influence

SurveyJunkie: An absolute favorite side hustle of mine! SurveyJunkie is a market research company that lets you take lots of surveys, focus groups, all the while being compensated for your input. You can make anywhere from $5-$20/day in your free time. Try out new products and be an active voice to influence the world.

Pinecone Research: Pinecone Research is a trusted and reliable platform that users can use to earn gift cards. All user will get points that can be withdrawn for cash or prices. Points can also be converted to gift cards which can be used in major establishments such as Walmart, Amazon, and iTunes. Registration is free and easy. Surveys will be sent based on the user's profile.

Vindale Research: A generous market research and product development firm that pays $5 to $75 for completing surveys. Vindale pays out through PayPal with a Trustpilot score of 8+.

Opinion Outpost: I like Opinion Outpost because customer service is great and they're a reputable company. You make less money but there is no "legwork" in looking for surveys. The surveys are short and easy so it's a great option to do them casually.

Try InboxDollars: A good alternative if you're sick of surveys. InboxDollars pay you for games. web searches, and watching ads. Although it's low-paying, you can get $5 free when you sign up.
Transcribing Firms for Beginners
Here are 30 companies that accept beginners with no transcriptionexperience, and the jobs can be done remotely!
⭐ Recommended Reads:
The following companies hire experienced transcribers:
⭐ Related Reads:
Tips for Transcribers
There are many more tips covered within the Transcribe Anywhere FREE mini course. Here are the basics for aspiring transcriptionists looking for easy entry into the marketplace.
1. Get a solid computer.
This should be obvious, but make sure you have a reliable computer with high-speed internet. There is nothing worse than trying to transcribe something while your connection buffers.
2. Get the right software and equipment.
As a beginner, you may not need much, but as you advance in your transcription career, headsets and foot pedals may be needed to maximize your performance.
3. Follow instructions.
The client probably sent notes or requests with their files, so make sure to read through those first so you don't end up having to re-do work.
4. Research.
Seasoned transcribers know that sometimes it's really difficult to make out what the audio is saying. Try submitting a few internet searches based on the content to see what it could possibly be saying. Sometimes this takes more creativity than others, but it's better to try and be wrong than to not attempt it at all.
5. Sample the Audio.
If allowed, try listening to the audio file before committing to the job. The easiest jobs are going to be the most enjoyable and rewarding for you.
6. Proofread.
Don't do all of this work just to submit it with grammar or spelling errors. Look over your final product once or twice to catch those issues.
7. Get cozy.
Especially if you're first starting out, these jobs aren't going to go super quick. Make your workspace as inviting and comfortable as you can.
⭐ Recommendations for You
General Rules When Transcribing:
Don't omit anything from your transcription unless instructed to.
If you can't make out part of the audio, write _ _ _ _ _.
Label laughter, applause, and music.
Unfinished sentences or pauses, which happen all the time in natural conversation, should be identified with an ellipses(…).
Numbers one-nine should be spelled out.
Start a new paragraph every time there is a new speaker.
Utterances (like, you know, um, uh, etc.) should be omitted unless told otherwise.