For many people, making money recycling probably sounds very well outlandish! But if you're money-wise, you will see that recycling is a unique way to earn extra cash while repping for Team Earth.
Think twice before throwing anything that seems like trash to you. Your plastic bottles, cardboard boxes, cartridges, tin cans, and many other things could be turned to cash, which adds up to a potentially big boost to your savings.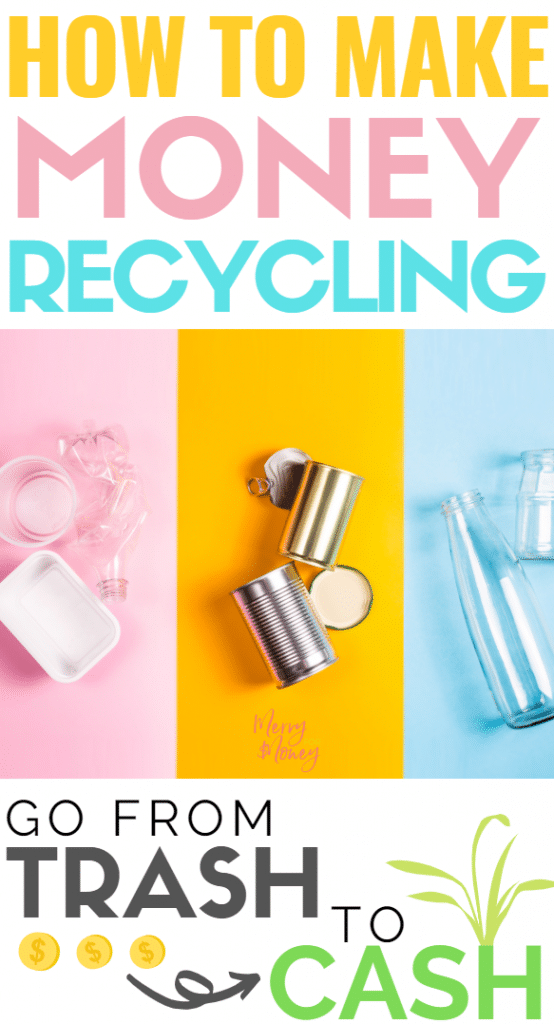 ⭐ Related Reads:
Here are the most effective ways on how you can make money out of your unwanted trash:
Cash in your cans and glass bottles to the nearest recycling centers.
No one wants to see empty or broken bottles lying around. It's just an eyesore for everyone, not to mention it degrades the quality of a neighborhood. But imagine the streets being sprinkled with nickles!
Whenever beverage container litter occurs, each can is worth a small nominal (usually 5 cents) value which can be stacked up as an effective economic incentive for individuals who seek another source of income while maintaining litter and trash on the local neighborhood or government roads.

You can make cash off your empty and bottles by returning them to the nearest collection center. There are more than 500 recycling centers in the country established by profit and non-profit organizations. These recycling centers, often nearby big grocers, collect eligible drinking containers in exchange for a payout. The more bottles to return, the bigger your refund.
Get a refund for your bottle deposit.
You don't have to wait until you fill your bag with bottles to make money. There is also the deposit-refund system that will give you money back for returning bottles. The bottle deposit system encourages recycling in order to reduce energy and material expenditures bad for the enviroment. It is also to help hefty tax-payer funded landfill programs from becoming overfilled.
If you live in cities that have a container deposit law, you will get a refund for every bottle that you return in a particular collection site. For example, let's say you are in New York and you buy a bottle of carbonated beverage that is on sale for $3. Since there is a 50 cents deposit charge per container you will have to pay $3.50 in total.
If you buy 12 bottles, that means you are paying $6 on top of the original price. But after all the bottles are empty, you can return them in the Bottle Return section of the grocery store where you bought them and get a full refund for your $6.
Other cities besides New York that have a container deposit law are California, Connecticut, Delaware, Hawaii, Iowa, Maine, Massachusetts, Michigan, Oregon, and Vermont.
Earn a store credit out of your used ink cartridges.
Got a bunch of empty ink cartridges in your office? I have a bunch myself that's been sitting, gathering dust bunnies for 7 years. I wish I knew you can actually sell them back to your supplier to earn some cash.
Office supply stores like Staples and OfficeMax have a recycling rewards program, which offers $2 for every empty cartridge that you turn in.
You can also sell your empty ink cartridges online. Sites like eBay and Craiglist are both good selling platforms where you can sell.
Fortunately, there are a lot more ways to make money from used cartridges. For example, US Recycling says that you can earn up to $3 for each empty cartridges that you bring to them. Alternatively, you can sell them through NeedEmpty and get a couple more bucks.
To earn more cash, you can pool a bunch of friends to gather more empty ink cartridges and sell them all together then split the profit.
Sell scrap metals (bare copper, aluminum, brass, etc.)
Selling scrap metal is probably the most profitable form of recycling. This is because everything you own has metal in it – from cell phone devices, broken grills, and old plumbing joints, to water filters.
The prices of metal can vary from place to place and the type of metal. On average you can make $10 per 100 pounds of metal. The largest you can make out of scrap metal like those you can find on broken grills is $100.
Here are some numbers to give you an idea of how much you can make per type of metal.
Bare copper cost: $2.85 per pound
Examples: phones, electrical cords, copper wire inside the electric wiring of your home
Aluminum: $0.50 per pound
Examples: soda cans, car rims, cylinders from engines, bike frames, ladders, golf clubs, computer parts, staples, and nails
Brass – $1.65 to $3.00 per pound depending on the color
Example: sink taps, watches, clocks, car radiators, PCB plug pins, sockets, and unused musical instruments
⭐ Related Reads
Sell your broken appliances (fridges, old TVs, etc.)
If you think your old appliances have no use anymore, you can be wrong! When your appliance, like your television set or refrigerator, finally dies, don't worry if the trash man will take it.
You can actually make money out of scrapped appliances by selling them to the nearest scrap yard or through an online site.
Sites I mentioned before like Craiglist and eBay are always a good place to sell them out. I've seen many people making $50 to $100 for a broken fridge and that is pretty good.
While your items are on sale in these sites, you can also display them in other sites like VarageSale to get more prospects who can buy your scrapped metals. Like Craiglist and eBay, this site allows you to sell unwanted items including your broken appliances.
Alternatively, you can sell your scrapped appliances to a local scrap yard and sell them by weight. The following are the most common home appliances and their average cost per kilogram.
Dryer with an average weight of 100lb to 150lbs: $10 – $15
Refrigerator (with compressor removed) with an average weight of 175lbs to 200lbs: $16-$20
Two-door refrigerator (with compressor removed) with an average weight of 250lbs to 300lbs: $24 – $28
Freezer with an average weight of 100lbs to 175lbs: $16 –$18
Washing Machine with an average weight of 200bs to 250lbs: $18 – $22
Gas BBQ Grill with an average weight of 180lbs to 220lbs: $15 to $25
Turn old batteries from motor vehicles into cash.
If you have motorized vehicles in your garage like a motorcycle, boat, car or an ATV, you might have some batteries to sell.
There's no use for batteries once they start breaking down. But you can turn them into cash by selling them back to your local auto parts shop.
National brands like AutoZone and Advance Auto can pay as much as $10 to $15 per battery. Not bad for something that has no longer in use, right?
If you're located far from auto part shops, the easiest way to get money out of your old batteries is to sell them at a local junk shop. The average rate for lead batteries is 0.33 cents per pound – that means you will earn at least $7 for a 21lbs battery. It's not as much as you get from auto shops but if you more batteries, it still means money.
If you have a business and have more than 500 pounds of old car batteries, a more exciting way to make extra money is to sell them through the Global Tech Environmental. If you meet their qualifications, they will pick up your batteries wherever you are in the US. As a bonus, you can help in saving the environment from the harmful effects caused by the toxic metals contained in batteries.
Sell your old books, clothes, baby stuff instead of tossing them away.
Some things like books, clothes, paintings, used baby gear, and handmade crafts can bring you some extra cash if you know how to sell them.
Instead of throwing them out, why don't you try using your own Facebook or Instagram to display your items? Here you can set your own price, which can be half the original price or 25 percent lower if your book is still new. For example, the average cost for paperback novels falls between $1.00 to $3.50 price range. Then you can sell each book between $0.75 and $1.50.
Another way to sell your old books is through BookScouter. I've seen some good secondhand novels like To Kill a Mockingbird sold for as much as $0.75 for a paperback cover. Sometimes, it depends on whether your book is in demand or not. A not-so-in-demand book like Go Set a Watchman was sold for only $0.12.
⭐ Related Reads:
Another site Half Price Books doesn't really sell used books half their price. However, it allows you to set a price and sell your old books just 10 percent less its original price. For example, a brand new version of Becoming Michelle Obama by Michelle Obama is sold at $21.00 but people at the site have been selling it for $16.25 for its secondhand version.
Of course, books are not the only things you can sell from your home. You can still make good money by hosting a garage sale for your pre-loved clothes, paintings and handmade crafts.
You can make as much as $100,000 simply by reselling clothes that you no longer use. It may sound unreal but a certain Natalie Gomez, a former merchandise planner at Macy's was able to make her first $100,000 by selling used clothes at Poshmark. Another student from the University of Arkansas was able to make $5,000 from reselling clothes bought from thrift stores.
What sort of other stuff can you sell online? The list is endless. The key is to start de-cluttering your home. Who knows you might find some really good stuff that you can sell for a good price.
Recycle your old music including vintage CDs and DVDs.
Could you believe that CDs and DVDs have now become a thing of the past? If you have stacks of CDs and DVDs that are taking up your shelf, you can actually sell them and make money.
Each CD or DVD can cost between 50 cents to $5 but DVD box sets can cost even more than $100. The highest selling price for DVD on eBay is $210 for "Walt Disney Treasures: The Chronological Donald".
Valuable DVD box sets like Dragonball Z, Star Trek, and Star Wars cost around $315 to $1, 299. Ultra-rare DVDs cost even more like for example the Cremaster Cycle was sold for $100,000 in an auction.
The price for each DVD or CD basically varies according to the noteworthiness of the content, special features, and bonuses. There are also many vintage collectors who are willing to trade more cash for CDs/DVDs to add to their collection.
The best site to sell vintage DVDs and CDs is eBay. Check their DVD condition guidelines to make sure that your item gets displayed online. You can also check other sites that will help you sell old DVDs and CDs like SecondSpin, Decluttr, and BuyBack Express.
⭐ Recommendations for You